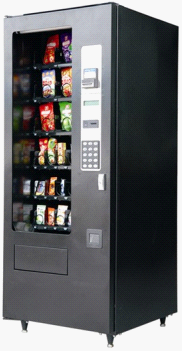 Features
Vend sensor guarantee product delivery
Double glazed viewing window with glue interspaces.
Adjustable shelf height every 15mm
Fully insulated & strong cabinet
Secure door with wrapround anti-vandal enclosures
Anti-theft device installed on the delivery box
Elegant plastic coin insert & keypad
Interior storage drawers
Snack tray tilts down 45º for easy loading
Accessible to young people and wheelchair users
LED Lighting for improved merchandising
Dual or single spirals for different sized products
360° helix adjustability in 20° increments provides flexibility to vend virtually anything
Electronics
Electronic multiple pricing accessed through keypad
Full unit and value line by line sales audit
Illuminated scrolling message display
Compatible with all leading MDB electronic change giving coin mechanisms, bill acceptor, cashless and telemetry systems
Integral, push button, mains safety circuit breaker
Full diagnostic programme accessed through keypad
24v DC Motors
Prepared for the EVA-DTS protocol, which can realize off site management.
You can know the latest machine's running status at any time and anywhere.
This makes replenishment and maintainance more efficient and accurate.
Options
We can design configurations for you as per the products you want to sell.
Vend Sensor
Vend sensor uses invisible light beams to detect whether the product falls into delivery box successfully.If after selection, a product fails to fall into the delivery box then the vend motor will turn two more times. If the product still fails to fall the customer is given the choice to make another selection or receive a refund. Vend sensor reduces service calls and refund claims whilst improving customer satisfaction.
Dimensions
Height - 1830mm
Depth -  785mm
Width -  735mm
Weight -230kg
Standard Capacities
27 Selections
Chip - 72 items
Candy - 84 items
Chocolate - 72 items
Gum - 108 items